This has been a big week for my plants... Eric finished the two shelves above my washer and dryer. They both measure 5 ' x 3 ' , and are big enough for at least 6 seed starting trays. We put flourescent lights to help add growing light... three fixtures (4 ' each ) hung on the ceiling for the top shelf, and three on the bottom, hung from the shelf above them.
We are excited about this because this is sustainable, and helps us to eventually be less dependent on others for our food. I am also excited to claim previously dead space above the washer and dryer. Since a bigger house is out of the question right now, we are looking to wisely use every corner possible. Eventually I may even put a plastic "door" over the front and hooks on the ceiling for holding it out of the way so it can be like a true greenhouse.
Last Thursday night I planted broccoli, cauliflower, cabbage, mint, basil, lettuce, and a few of the sugar snap peas. I had never heard of peas being started inside, but I read about it in the "New Victory Garden" book I got off Paperback Swap. I figured it would be worth a try.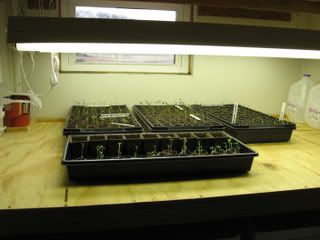 (This is a picture of the bottom shelf. I am saving milk jugs to punch holes in the bottom and let them slow drip into my outside boxes.)
Each tray in the back has 98 spaces, and I probably got a 95% germination rate. We have the lights plugged into a power strip so I can turn them on in the morning and off at night.
This is my lettuce... there is now no longer any reason I cannot grow my own lettuce all year long. I'll need to thin some of it out... those seeds are really small. Mostly I tried to use only one seed in each thing so I don't waste too many.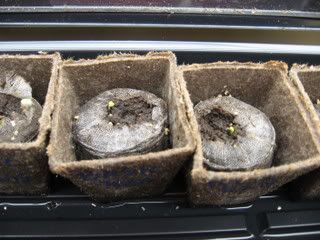 Basil- it just sprouted yesterday.
Cauliflower...
Broccoli
Peas in the front, and cabbage in the back.
There is only one small area of trouble in paradise. Remember when I said that we are bringing the hay (pecked over first by the chickens so we are not planting weed seeds into my garden...) and manure and filling my garden boxes? Well, the compost process produces heat. The dogs have discovered this, and taken to sleeping INSIDE MY BOXES at night... this is eventually going to cause a problem. Just like that, Eric has another job... building a FENCE around the garden spot... hehe. As if the poor guy needed another project to do for me.
It is getting warmer (and our heater is FINALLY working right...), so we are looking forward to spring. And after a couple months of eating anemic tomatoes bought at Wal*Mart... I cannot wait until my sink looks like this:
Head over to
Ship Full O' Pirates
for more Home Made Thursdays!