ATTENTION: Soon I am going to be starting a Mr. Linky called the Garden Guru where you can link your garden update posts here in one place so we all can learn from each other. We will be our own virtual Garden Club. Keep checking back until we get the Garden Guru and a Button to grab!
~~~~~~~~~~~~~~
We finished our seed starting little greenhouse this week. And by WE I am not including myself... I mean my wonderful husband. Here is as best a photo as I can get, since it is a relatively small laundry room. You can see that the lights for the bottom shelf hang from the underside of the top shelf. It gets nice and warm in there from the dryer. By the time we can plant outside we can also hang our laundry to dry, so that will work nicely in the meantime.
You can sort of see that the bottom shelf holds my trays that were started two weeks ago.
On the top shelf I had to put the peas I started two weeks ago because that shelf is taller. And I put the trays I started today. The lights for this row are hanging off the ceiling.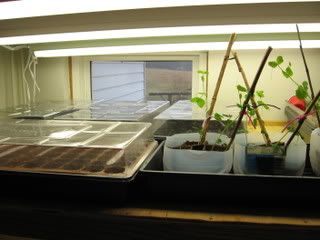 Mental note for next year: You may be able to start peas inside, but if you do it too early it is hard to prop them up.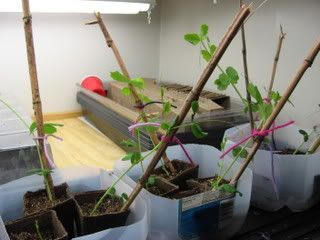 My seedlings are doing great. Most of the plants are getting their second set of leaves. Here is broccoli: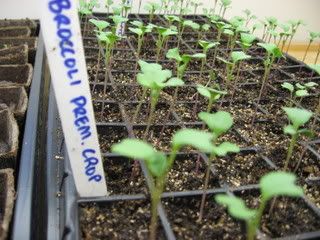 Cauliflower:
Cabbage: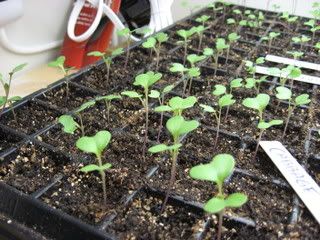 Lettuce:
Mint:
Basil: (I think these are the most adorable leaves... )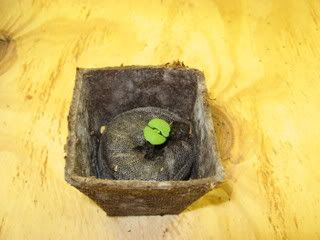 Today I planted tomatoes, peppers, marigolds, oregano, parsley, more lettuce, and a few more peas. I may regret the pea ones, but I figured what the heck, live a little.