Can it possibly be Friday again already?! Wow has time flown. Last Friday I was quickly posting, because I was also needing to pack for our trip with my family to the Smokey Mountains. We left Friday at 1, and returned Wednesday afternoon. It feels so good to get back to our house and get into the normal routine! I have so many little ones that being out of normal routines gets very, very difficult!
I'm going to post photos, but I will tell you up front that they are from last week. Today I was too busy actually weeding the garden to take photos of it! Lisa from Best Life... here are your photos of my "farm"... let me know if you want to see anything else. ;) My wish is your command.
But on to my garden. I was delighted to return to such wonderfully cool weather. My peas, broccoli, cabbage, and cauliflower are LOVING this weather. We have actually been able to eat sugar snap peas the past few days. Yummy!!! We still have some lettuce, and the spinach is big and needs to be eaten. I was thinking of making a lasagna with it, as I think it is going to be more bitter than we want on our salads.
I also saw some little cabbages and cauliflowers developing... that is so exciting! I have never raised those crops at all.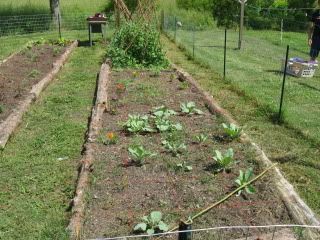 We are having a tough time keeping up with the weeds currently, between weeks of rain and our little trip. We will need to be out weeding every day for the next couple weeks to get them under control. They WILL get under control if we keep at it. I learned last year that if we get them under control early in the season, we will have less to do when it is very hot in the summer. Isn't this true in life? If we get the sins (weeds) under control before they take serious root then we will have much less work in the long run.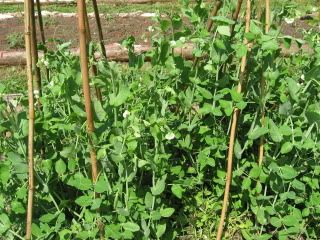 I really love weeding. This morning was so beautiful. Cool, the birds were singing, and I could SEE progress. I could see where I had been, and where I still needed to go. It is such a satisfying feeling. Much more satisfying than washing dishes or folding laundry. Am I weird in that? Maybe it's just me. :)
Broccoli/ Cabbage/ Cauliflower
Beans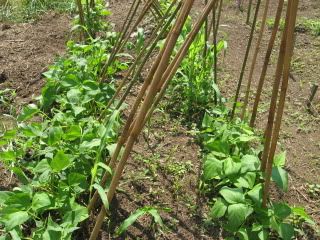 Watermelon and Cantaloupe Hills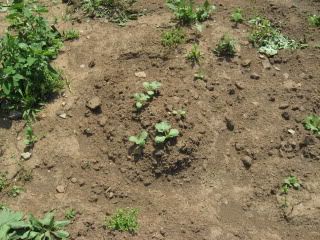 These are very unsatisfying photos as the gardens are MUCH fuller today than last Friday. Maybe you'll just have to subscribe to my blog so you don't miss if I spur of the moment decide to take the time to put up current photos!!!
Oh yeah- I found this link while perusing blogs this morning... check out this greenhouse. I'd revamp it a bit to maybe put the roof on hinges so it can open up if it gets too hot (the man who posted it was in Scotland... I doubt they have that problem there!), but I think it bears looking at
here
. Just for the record, we rarely buy soda, but I am sure enough others in our church drink it and we'd be able to get their bottles.
They'd have to be washed out well or the extra syrup would attract ants. Ugh!
Mr. Linky is not functioning, so we will just have to leave your links in the comments. If you have trouble commenting, please e-mail me your link at petersonclan at momys dot net and I will put it in for you.
Happy Gardening!