Many, many, many of you are interested in our sweet little Mercy... and finally the swelling is down enough to show some photos.
Here she is front on the night before the surgery.


And sideways, again the evening before the surgery.

One the way to Cincinnati she was so excited. She exclaimed, "Now I will look like Bizzy (one of her friends) and Bethany (her sister). "

My heart broke. I had hoped to be done with this before she realized how different she looked. I said, "Well, you will look just like Mercy. Which is the best thing for you to look like." I spent the rest of the day trying not to cry.

Then on the way home the next day, she caught sight of her swollen little face in a mirror of McDonald's and burst into tears. "He didn't take it away!" My heart shattered.


But now that the swelling is down (mostly... I am still hoping that some of the deepness that remains is swelling and not hemangioma), I am willing to post some photos of our little girl.

I am not sure why it is green... and really didn't have the time to figure it out... but here you can see the incisions. He basically did two face lifts... one to make her eyes symmetrical... and one to remove as much of the hemangioma in her cheek as possible. Also to take away as much of the scarring as possible.

Remember... Before...
And you can see that the eyes are symmetrical.
With bangs and hair, very little will be able to be seen. As far as if this is as good as it gets, we have to wait and see about that also. Dr. Elluru will do a process this fall called a "Derm Abrasion", and then we just wait. Maybe it will be better. Maybe a better laser will be developed.
But for now I thank God we are here. I thank God that we got as much as we did. Because a year ago this is what Mercy looked like: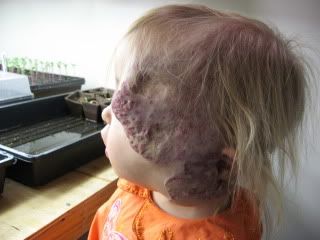 And this is today.

Just beautiful. No matter what scarring remains.