We have been working so hard to get on top of the weeds this week. I have to admit that none of us complained when we had thunder storms Wednesday night, and rain all day Thursday. We were a bit relieved to have the excuse to sleep in instead of getting up early to weed! [Lisa of Best Life... note the photos of the children in the garden...]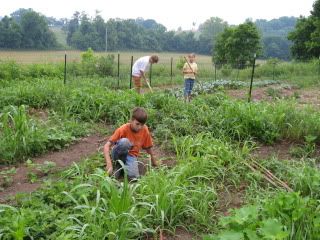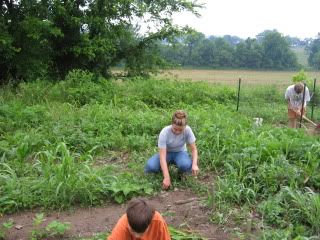 My garden is looking great. I think I will have to replant some beans and corn, but it is not too late yet. I am trying to decide where to re-plant it. I think I will plant them around the current areas of broccoli, cabbage, and cauliflower, because I think those will be coming out by the time the beans and corn need the sunlight and space. Anyone agree or disagree? I'd like them in my close kitchen garden so it is easier to weed and keep track of. Much as I like to ignore the fact, I AM 25 weeks pregnant, and it will be VERY hot soon. In the not too far future the back gardens will start looking very far away.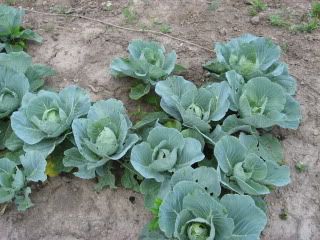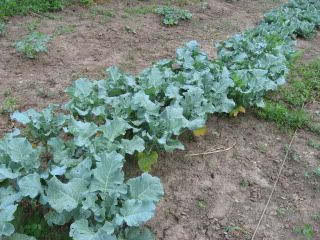 We have gotten a lot of peas, which have been added into everything imaginable. They tasted great in our cole slaw. The boys even claim they tasted good on their peanut butter and banana sandwiches. I read that idea on a blog and convinced them to try it. No one else was willing... wonder why. ;) I'm just a bit too pregnant to experiment with my food that way.
The prettiest smelling parts of my garden.. the lavendar, the lemon balm, and the pineapple sage were all picked, and are now drying... so nice smelling.
So what's going on in your garden? Mr. Linky is still offline, so I suppose we are having to leave comments again. I am a little disappointed, as it seems that not all the comments are getting to me for moderation... if you do not see your link, please e-mail it to me at petersonclan at momys dot net . I'll figure out a way to get it up for you.